How do I find out how much my older prints/signed limited editions of Lucie Bilodeau's artwork are worth?
Although we get many requests for print/signed limited edition valuations, we are unable to answer this question. There are a few sources for finding the value on older limited editions. InformArt magazine is a good source. They release a magazine four times a year. To subscribe, you can call 203-262-9220 or visit their website - www.informartmag.com.
How do I find information about a signed limited edition print of one of these watercolors by Lucie Bilodeau?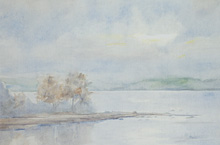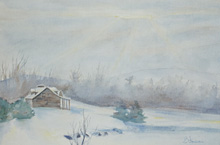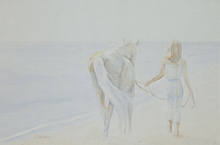 Ms. Bilodeau did the four watercolors above for the company Cadres Columbia Inc. / Columbia Frame Inc. in Montreal, Quebec, Canada. The 4 editions of 2975 were signed and numbered by the artist. The editions were released in 1990. If the artist remembers correctly, they were sold in a big chain of department stores for under $50.00 apiece. The limited editions were sold with the frames. Unfortunately, we have no idea what the current value for these limited editions are. The artist created the original watercolors in the studio she had in Montreal, around 1989.
Has the artist created instructional books or videos on how to draw and paint?
The artist has not created any instructional books or videos on how to draw and paint. However, she highly recommends the fine art school Mission: Renaissance. It is the school where Ms. Bilodeau did her art training while she was a teenager. The school also has a Home Instruction Series.
Does Ms. Bilodeau give consultation services for artists?
Because of Ms. Bilodeau's very busy schedule, she unfortunately does not have the time to provide consultation services to artists.