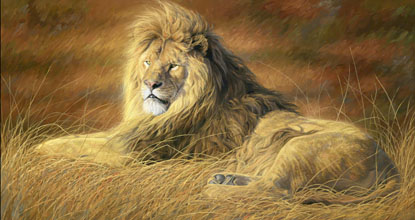 "More Striking Than We Had Anticipated"
We first noticed Lucie's 'Africa paintings' in a gallery in Key West and instantly loved her art. She'd truly captured the wildness and at the same time the gentility of the beasts as well as the serenity of their surroundings. We bought a wonderful painting of a lioness with her two cubs. We then commissioned Lucie to paint a complementary painting of a male lion to have them hang facing each other in a corner of our home office. 'Majestic' was even more striking than we had anticipated. He's certainly majestic and his face and mane simply forge out of the painting.
Communicating with Lucie long distance was a pleasure and she worked diligently to please us and to produce an art piece that is superb. We have since purchased additional painting's from Lucie including another commissioned piece entitled 'Autumn's Majesty' which captures the fall colors of our beautiful northeast in a tranquil setting of an old barn nestled below a massive escarpment cliff.
Al Tolstoy, Chairmain Tokii.com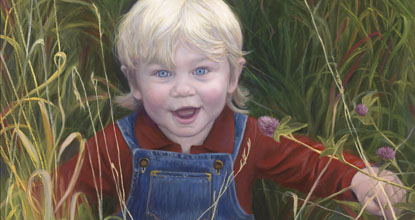 "I Am Thrilled With the Portrait"
I am thrilled with the portrait. Not only am I happy about the result but the whole experience was very special. I thought that the meticulous detail that you adhered to and the updates you provided me were especially important and satisfying. I especially appreciated the fact that you paid attention to my input and was very understanding of my concerns through the whole process. You consistently told me that you "WANTED ME TO BE HAPPY" and that meant so much to me. You are so easy to work with and provide such a wonderful service with the framing too. The whole process was so easy. I find it unbelievable that you can paint such a fine painting from a photo and capture the child's/person's personality and spirit, and all my friends thought so too. You are just terrific...a wonderful artist and a special person. Thank you from the bottom of my heart.
Christine L.
Farmington, Connecticut